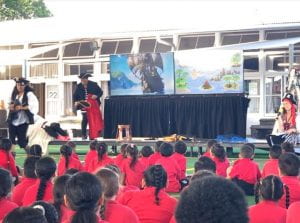 Hello, welcome back to my blog/welcome to my blog! Today is the first day of term 2! Yay! This morning we had a immersion assembly with the whole school. Each team shared an item based on what they are learning for this term. This term's theme/koreo is "We Know The Way".
Team One Item – Bees, Team One's item was based around bees. There were two bee keepers who were searching for bees. There was this one big bumblebee that they chase and followed. The bee knew its way, it went right and left, up and down, over and under.
Team Two Item – Pirates, Team Two's item was based around pirates. I teacher was a speaker, one was Jolly Roger and the other two were his pirate friends. Jolly Roger pulled out her map and read/looked through it. She got some audience members to help her find her way. They would North/Never, East/Eat, South/Soggy, West/Weet-Bix. Other kids used google and google maps. I guess thats just they way now these days. Everyone if now using technology for mostly everything. Usually when people travel they would use google maps or GPS or the navigation system on cars. Some use maps and paper or just their knowledge. Sometimes they just know where to go. I usually use google, google earth and google maps. 
Team Three Item – Scratch+Coding, Team three's item was based on a quiz show about Scratch. Three students and Three teachers came up to participate in the quiz show. Questions include what is scratch?, what is coding?, what do you do to fix and code mistake?, and etc. The PES students won the quiz.
Team Four Item – QR Codes & Scratch, Team four's movie was about navigating and QR codes. The teacher in the movie navigated around the school as a new student. She found and looked for QR codes. The QR codes left some messages and helped her find her way. She eventually did and thought this school was just right.
Team Five Item – Sphero, Team fives's item was about coding. One teacher read and the other two were students and the other two where robots. One student was precised and the other was rebellious. They helped each other and learnt how the code their robots. I think it was quite funny when the two students (who were teachers) dumped water on the robots head.
I hope you have enjoyed this post. Please leave a positive comment on my blog.